The Bothersome Man is from my country, a comedian that plays the main character.. Have it on dvd, but haven't seen the ending, I've seen almost the whole movie thou... The last of the ones I've seen lately, more to come after those to, but not the same tempo;)
Paranoid Park (2007)
A teenage skateboarder's life begins to fray after he visits the infamous skateboard alley "Paranoid Park"..
A rather boring look, will forget this one pretty quick I think.. Some interesting scenes and music thou=)
3-/6
Stranger Than Fiction (2006)
http://www.imdb.com/title/tt0420223/
An IRS auditor suddenly finds himself the subject of narration only he can hear: narration that begins to affect his entire life, from his work, to his love-interest, to his death.
An interesting movie, but will probably faint away from my memory some time soon althou pretty good.. Reminded me of The Truman Show at the beginning.. Never been a fan of will ferrel, but this actually worked.. A role for him, he looks like that person sooo..
4/6
The Saddest Music in the World (2003)
http://www.imdb.com/title/tt0366996/
A sort-of musical set in Winnipeg during the Great Depression, where a beer baroness organizes a contest to find the saddest music in the world. Musicians from around the world descend on the city to try and win first place - a $25,000 prize.
I'm just non stop thinking of this one, don't know why.. A little treat indeed.. Didn't think I was going to like this at first, had it avaible before, and then I just looked fast through some scenes, and hrmf-ing about it.. But,
4+/6
Crna macka, beli macor (1998)
http://www.imdb.com/title/tt0118843/
Matko is a small time hustler, living by the Danube with his 17 year old son Zare. After a failed business deal he owes money to the much more successful gangster Dadan. Dadan has a sister, Afrodita, that he desperately wants to see get married so they strike a deal: Zare is to marry her. But none of the two care much for an arranged marriage: Zare is in love with Ida, Afrodita is waiting for the man of her dreams.
Hahaha, good one.. A very special society constructed by these gypsis.. Long story short, the Godfather movie of the gypsis world:P
pitbull(!)

teeeeerrierrr !!!!
4+/6
Seul contre tous (1998)
http://www.imdb.com/title/tt0157016/
France, 1980. A retired horsemeat butcher fights to survive. After abandoning his teenage daughter, and hoping to rebuild a new life, he moves to Lille with his pregnant lover. He doesn't love her. He likes even less living at his mother-in-law's apartment. Quickly his hopes turn into bitterness, and this bitterness into obsessions.
A very moody movie, you'll have the constant bad feel in your head, and it screws up your mind, nicely at that.. Very sickening movie, but the sickening is the truth about this mans mind and matter about things.. How life is constructed, got me good this one.. A very strong movie that will get some spinning around time in my head..
5-/6
Suspiria (1977)
A young American dancer travels to Europe to join a famous ballet school. As she arrives, the camera turns to another young woman, who appears to be fleeing from the school. She returns to her apartment where she is gruesomely murdered by a hideous creature. Meanwhile, the young American is trying to settle in at the ballet school, but hears strange noises and is troubled by bizarre occurrences.
Wow, this looks alot like twin peaks/blue velvet/lynch.. The colours, the suspense, the involving story.. It got me good, this will not be forgotten in a hurry.. A nice movie indeed, and some things I did not expect.. A thrilling experience..
5+/6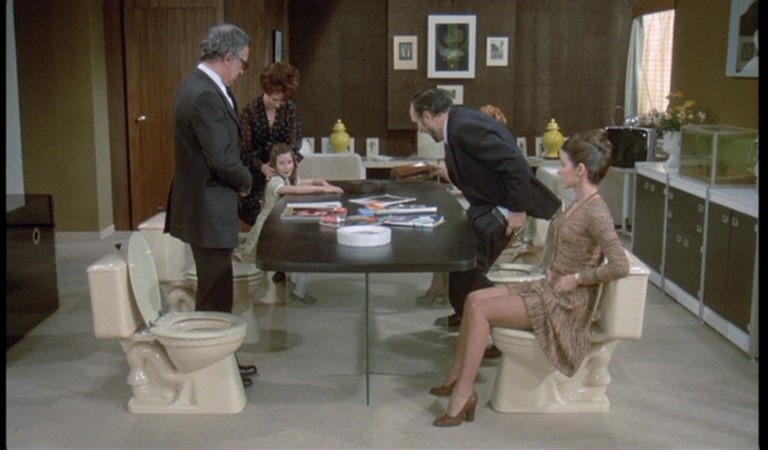 Fantôme de la liberté, Le (1974)
http://www.imdb.com/title/tt0071487/
One of Luis Bunuel's most free-form and purely Surrealist films, consisting of a series of only vaguely related episodes - most famously, the dinner party scene where people sit on lavatories round a dinner table on, occasionally retiring to a little room to eat.
A nice movie to watch, but not among my personal favourites.. Some funny scenes, sort of life "Du levande" type of a movie, just without my type of humor.. Indeed worth seeing thou..
4/6
Orfanato, El (2007)
http://www.imdb.com/title/tt0464141/
A woman brings her family back to her childhood home, where she opens an orphanage for handicapped children. Before long, her son starts to communicate with an invisible new friend.
This was both a creative little piece, but sometimes kind of easy to understand what going to happend, like all the other horror flicks.. But a much more delightful calmn over the whole story althou it did got me frozen at times.. Sweet one, but I was hoping even a little more for this one I think..
4/6
Uzak (2002)
http://www.imdb.com/title/tt0346094/
Mahmut, a 40 year old independent photographer, is a "village boy made good" at least professionally in the big city - Istanbul in this case. After his wife leaves him, he falls into an existential crisis. Then comes his cousin Yusuf, who left his native village after a local factory closed down, effectively unemploying over half the local men. He looks to Istanbul for salvation: a job on board a ship sailing abroad, at once exciting and crucial to supporting his family in the desperately poor village. The distance between the two men is apparent at once, and becomes increasingly pronounced. Whereas Mahmut is adusted to big city life and suffers from many of its neuroses, Yusuf is a lonely, excentric country worker with annoying nervous and hygienic habits, and a sick mother back home he must somehow support. This intimate drama was filmed in the director's apartment in Istanbul, using all his furniture, appliances, rooms, car and so on as the film's props. The actor playing Yusuf is actually the director's real-life cousin, and the actor playing Mahmut is an actual friend, a non-professional actor.
This was interesting, about the relation between the two people who both struggle with each their problem, due to the lack of many dialogues you'll get inside their head real good.. I sat focused all the way through with some scenes more intense than others, but all in all a good movie.. I recognized myself in alot of these situations between them.. It's kind of like the situations that you'll see in the "Seinfeld" series..
4/6
Taxidermia (2006)
http://www.imdb.com/title/tt0410730/
Taxidermia, being of the most grotesque pictures I have seen, is nontheless a brilliant and symbolically powerful work. The continuously revisited motiff, being beastiality and the animal nature in all humans is depicted through many explicit scenes to cause the viewer discomfort. The end result - acknowledgement of the trueness of the film. It trails the lives of three generations of men with no self respect, no common sense and all living abnormal lives. They all frame themselves in the same negative fashion as the previous one. With photography as artistic as many renowned directors, Gyorgy Palfi manipulates the Mise an Scene to convey messages of emotional magnitude and deeper meaning. A film which is difficult to sit through, but still highly recomended. Not for the lightest of stomachs:)
Among the more interesting movies I've seen in a while, just gripping with a touch of the nature of humans.. Goodlooking movie with some funny stories..
5-/6
Krótki film o zabijaniu (1988)
http://www.imdb.com/title/tt0095468/
The plot couldn't be simpler or its attack on capital punishment (and the act of killing in general) It's several stories that combine to make the observer understand the horrific issue that captial punshiment holds.
Great movie, and the subject is executed right on point, incredibly ilustrated.. Watch it! I can't understand the death penalty's still left in different countries around the world.. Disgustingly good movie..
5-/6
Baraka (1992)
A movie with no conventional plot: merely a collection of expertly photographed scenes. Subject matter has a highly environmental theme.
Baraka (1992) is a Todd-AO (70 mm) purely cinematic visual film directed by Ron Fricke, cinematographer for Koyaanisqatsi, the first of the Qatsi films by Godfrey Reggio.
Quote:
Often compared to Koyaanisqatsi, Baraka's subject matter has some similarities—including footage of various landscapes, churches, ruins, religious ceremonies, and cities thrumming with life, filmed using time-lapse photography in order to capture the great pulse of humanity as it flocks and swarms in daily activity. The film also features a number of long tracking shots through various settings, including one through former concentration camps at Auschwitz (in Nazi-occupied Poland) and Tuol Sleng (in Cambodia) turned into museums honoring their victims: over photos of the people involved, past skulls stacked in a room, to a spread of bones. In addition to making comparisons between natural and technological phenomena, such as in Koyaanisqatsi, Baraka searches for a universal cultural perspective: for instance, following a shot of an elaborate tattoo on a bathing Japanese yakuza mobster with one of Native Australian tribal paint.

The movie was filmed at 152 locations of 24 countries: Argentina, Australia, Brazil, Cambodia, China, Ecuador, Egypt, France, Hong Kong, India, Indonesia, Iran, Israel, Italy, Japan, Kenya, Kuwait, Nepal, Poland, Saudi Arabia, Tanzania, Thailand, Turkey, and the United States. It contains no dialogue. Instead of a story or plot, the film uses themes to present new perspectives and evoke emotion purely through cinema. The film was the first in over twenty years to be photographed in the 70mm Todd-AO format.

The title Baraka is a word that means blessing in many different languages. The score provided by Brendan Perry and Lisa Gerrard (from Dead Can Dance), Inkuyo, and Michael Stearns is noticeably different from the minimalist one provided by Philip Glass for Koyaanisqatsi. Notable music was also contributed by the band Brother. The film was produced by Mark Magidson, who also produced and directed the film Toward the Within, a live concert performance by Dead Can Dance. A sequel to Baraka, Samsara, is currently in production and expected to be released in 2008.
Lots of good filming about interesting spots and people around the world..
4+/6