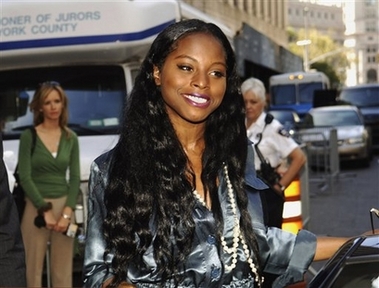 Singer Foxy Brown exits Manhattan criminal court in this Thursday, Sept. 22, 2005 file photo in New York. Foxy Brown pleaded guilty on Monday to misdemeanor assault charges stemming from a fight with salon workers over a manicure. The plea deal, which spares her jail time, requires her to serve three years probation and take anger management classes, said Edison Alban, a spokesman for the Manhattan district attorney's office. [AP]
Rapper Foxy Brown pleads guilty, then changes mind
(Reuters)
Updated: 2006-08-29 09:46
NEW YORK - U.S. hip-hop artist Foxy Brown pleaded guilty in a New York court on Monday to assaulting two nail salon stylists over a $20 manicure, but later changed her mind and told the judge she was innocent.
The recording star, whose real name is Inga Marchand, pleaded guilty to assaulting the two women in August 2004 by hitting and kicking them in a dispute over payment for a manicure Brown said she never received.
But Brown, who was wearing dark sunglasses and a designer outfit, returned to the Manhattan Criminal Court room a short time after her case had been heard to tell Judge Melissa Jackson that she wanted to change her plea.
"I'm innocent in this case," the 26-year-old rapper said.
The judge had initially told Brown she would be sentenced at a formal hearing on October 23 to three years probation, which would require her to report monthly to police and undergo drug testing, and attend an anger management course.
She said the star would have to make a written motion to the court to withdraw her plea and that a decision on that request would be made on October 23.
Brown had been due to appear in court on Monday morning, but did not arrive until late Monday afternoon. She told the judge that she had been delayed due to a hurricane in Jamaica, where she had performed a concert.
"She does not come in completely pristine to the court," the judge said, noting the case was 18 months old.
Brown had appeared in court in December 2005 to plead guilty to the lesser charge of disorderly conduct in a deal with prosecutors that would require her to perform 10 days of community service.
But after balking several times at going through with the proceedings, Brown then stuck her tongue out at the judge and was handcuffed to her seat until she apologized, forcing the case to be adjourned.
"I was never against taking community service or apologizing to the court," Brown told the judge on Monday.
Brown's 1999 album "Chyna Doll" opened at the top of the Billboard 200, the U.S. pop chart encompassing all styles of music, becoming the first female rap artist to achieve that feat.